The Calgary Seed Library is a grassroots organisation (pun intended!) created by a group of gardeners and seed savers in Calgary. Our dream is to form a vast community of growers living under the Chinook Arch who can borrow from our seed collection and return seeds from their harvest.  The Chinook Arch is an area in Southern Alberta impacted by particular weather patterns called "Chinooks". Chinook winds are warm, dry westerly winds that blow down the Rocky Mountains into the mountains' eastern slopes and the western prairies. During the winter season, snow-eating chinook winds suck moisture from the soil and desiccate exposed plants. Snowfall is often sparse, and our plants are often denied the snow's insulating and moisture-retaining benefits. Prolonged chinooks can also cause plants to break dormancy—often with catastrophic results when the bitter winter cold inevitably returns. Confused non-native plants that just don't know any better are particularly vulnerable (Leslie Reynolds 2002).
We are focused on creating and maintaining a welcoming space, a place to learn and grow the food justice movement in the Elbow/Bow River watershed, where the foothills meet the Prairies, and in and around the City of Calgary. This area is known traditionally as Blackfoot Confederacy territory and the traditional Blackfoot name of this area is Moh'kins'tsis, which refers to the place that the Elbow River meet the Bow River. We are situated on the traditional territories of the Treaty 7 region of Southern Alberta. This region includes the Blackfoot Confederacy (comprising the Siksika, Piikani, and Kainai First Nations), the Tsuut'ina First Nation, and the Îyâxe Nakoda, including the Chiniki, Bearspaw, and Wesley First Nations. The City of Calgary is also home to Metis Nation of Alberta, Region 3 (Calgary Foundation 2022). 
The main goals of the Calgary Seed Library are community building, education, and contributing to the movement to protect and restore generic diversity. We hope to engage Calgarians to grow more food, save their own seed, and help us to build a large collection of locally grown seed that is more resilient and adaptable to the extreme weather patterns caused by our proximity to the Rocky Mountains and to climate change. 
In 2018, Shelby, a Calgary gardener, began a practice of "lending" seeds to clients and community partners. As the practice become more popular, she sought to expand her seed collection to the public. In 2020, she received a Taking It Global grant to purchase the supplies needed to expand the seed collection and in early 2021, she invited several friends and community members to join forces to make it happen. 
About 25 individuals volunteered to get involved, and a small community was born! Instead of building a traditional "structure" for the organization with clearly defined roles and timelines, we first focused on building trust, strong relationships, and a positive culture. We set some "rules" for the group that included: 
volunteering with the Seed Library should be fun and shouldn't feel like work, 

we trust that every person brings unique and special skills and contributions, 

volunteers should only take on tasks that they are interested in or want to do, and, 

volunteers should feel free to come and go as they need to (don't apologize for taking a break)
We also have one golden rule: only process seeds when you are in good spirits. 
In this first year, we built our practices and protocols that defined how we would work together. We found fellow seed nerds, dreamed a lot, and figured out the strengths everyone had to offer! We also accomplished typical start-up tasks such as finding a location, ordering supplies, getting donations from seed companies, saving seed, building a website, and teaching others. We did not launch officially but developed a strong foundation and some key elements. The group continued working together throughout the Fall and Winter, and launched in June 2022.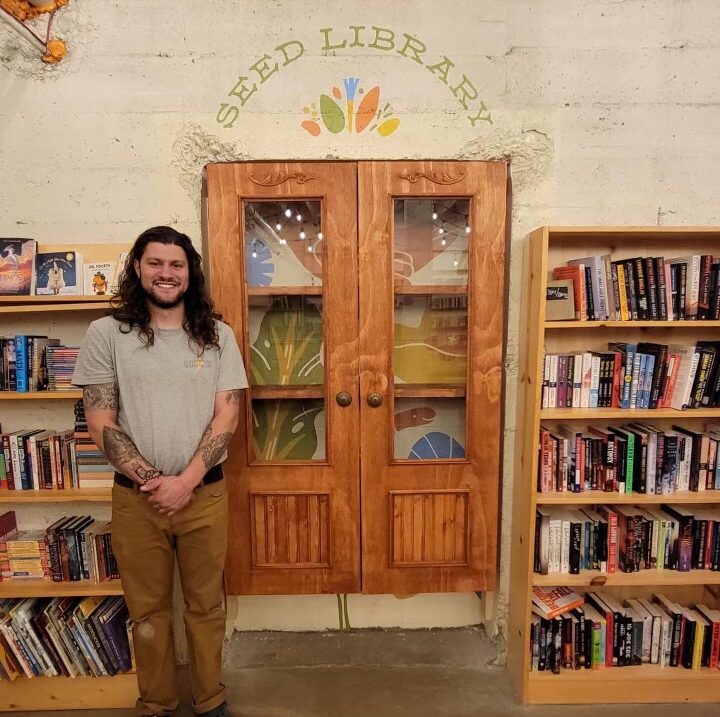 Partners and People Involved
Aside from our wonderful community of volunteers and members, we are lucky to have some great partners involved. The library is located in a locally owned bookstore, the Next Page YYC. This partnership was suggested by members of the group that had a close personal relationship with the owners. The owners agreed that the partnership felt right and graciously welcomed us into their business, which is a beautiful and centrally-located location. The Calgary Seed Library sits within a small, bricked-up doorway in the basement of The Next Page, where we painted a mural and built a cabinet for the seeds to sit within. The mural was designed to fit within our brand, which was created by our design shop partner Barun Fox. The mural was painted by Barun Fox and another local artist, Juniper Limbs. Finally, the cabinet was built by a local handyman and bike mechanic who works out of Ill Fated Kustoms bike shop.
Additionally, we have been lucky to work with local food organizations such as Highfield Farm and the Ramsay Community Garden who both donated growing space (i.e. garden beds) and seeds (i.e. locally grown or packaged) to the library. We also received very generous seed and resource donations from West Coast Seeds, Salt Spring Seeds, and Growers Blend seed farms in 2021 and 2022.
Finally, we could have not have done our initial expansion without a grant from Taking IT Global. All additional funds have been accrued through community events such as potlucks and some small donations from local individuals. All of our additional seed donations have come from individuals in our community, as well as seed savers that heard about us or found us online.
How The Seed Library Operates
The library has a collection of seeds available to growers of all experience levels. In order to borrow seed from the library, individuals must sign up for a membership. Memberships are free and individuals can sign up online or at The Next Page when our "seed librarians" are on site. When members borrow seed from the library, they agree to a "verbal contract" that asks if they will do their best to grow this plant to maturity, collect some seed, and return the seed to the library in the future. When the member is ready to return the seed (or donate more), they can drop it off at The Next Page during their business hours. 
So far, our greatest success has been the community we have developed. Our volunteers share a common purpose and the group offers a secure, attuned, and welcoming space that invites and welcomes connection and exchange of knowledge. A practice that enabled this positive environment is asking new volunteers to define their strengths, interests, and the projects that they would like to support rather than distributing volunteer responsibilities based on the organization's priorities. This is done by sending new volunteers a volunteer survey, and then following up with volunteers to outline current projects that align to their responses; for example, we would suggest our "harvest party preparation" group to a volunteer that is "very interested" in planning events and collaborating with others. We always welcome volunteers to pitch new projects or ideas. We also avoid pressuring volunteers to take on work that they are not excited about, for example, we went multiple months without social media accounts before someone interested in this work joined our group. So far, we have always had good luck with our approach to distributing leadership and labour, finding that someone willing and excited about needed work always seems to show up eventually! Some comments from our community: 
"The skills that people use in their workplace aren't always the skills that they want to use in their free time"

"A group of people will work so much better together when they focus on taking on what makes them happy and what makes them feel good!!"

"Volunteer commitments don't have to be stressful and pressuring!"

"[I found] regained confidence in my ability to contribute to a community projects after having become severely burned out from past work in environmental movements"
We are also very excited by the success of our first workshops and educational events over the past few years. Our community members agreed, and shared this quote; "one of my favourite memories is watching our volunteers deliver such an excellent seed saving workshop in Ramsay, and how engaged and curious attendees were". The lessons we learned through these events helped us hold a successful launch event in June 2022, where we attracted local press attention and lots of new members. We have since signed up many more members and received seed donations from individuals across the city!

Additionally, we feel very proud of the strength of our partnerships, and acknowledge that our success is largely due to the organizations and skilled individuals that have offered to support us along the way. Most of these connections came through existing relationships and these relationships have only become stronger over time, once again, because this group values treating others with respect, warmth, and gratitude.
Getting started was the biggest challenge, and it took many years to get it right. Before receiving a grant from Taking IT Global, Shelby approached existing organizations and food groups throughout Southern Alberta to propose collaborating on a Seed Library, but none were the right match. Usually, this was because the organizations did not have capacity or shared enthusiasm for the project. Without a partner, it wasn't possible to grow Shelby's seed lending practice into a public seed library, because she could not access the funds needed to purchase essential supplies or to replace seed that was not returned. Without a registered entity (i.e. a nonprofit organization) it was difficult to access additional resources and scaling didn't seem possible. This all changed when Taking IT Global provided a microgrant for the project that did not require the project to be registered as a non-profit. These funds (about $1000) allowed the project to grow, and that's when Shelby did a call-out to community members to join in the start-up phase of the library.
However, this issue is not completely resolved because we still face the challenge of defining our path forward, for example, we have not resolved these questions:
What is our long term goal? What resources will be needed to achieve this?

What will we do when our current resources run out? How will we access additional resources?

Will we need to register as a legal entity to reach our goals? If so, should we register as a non-profit, a charity, a co-op, a for-profit social enterprise, etc?

Should we partner with a larger organization or body to help us achieve our mission? If so, who is the right fit?
Additionally, we are still working through challenges related to communicating our purpose and the value and importance of seed libraries, seed saving, or seed diversity to a new audience. Because mainstream society is so far removed from the realities of the corporate and industrialised food system, audiences can require a lot of background information to understand why a project like this is important, and making this message simple and accessible has been an ongoing challenge for us. It can be hard to advocate about a solution to a problem that is well-hidden and poorly understood.
An organizational vision can be co-created, shared, and emergent. When the Calgary Seed Library was first established, the small group of interested community members all shared their visions for the project. We weaved their individual visions into a collective vision for the project, and began working together based on that vision. However, over time, the make-up of the group has changed and the nature of our work has, too. We have accepted this, and continue to build a greater vision together by encouraging volunteers to share their ideas for the future and collectively discussing how these ideas will impact or change the library. Sometimes we are not aligned about the future, and we try to spend the time needed to work through misalignements. When we collectively agree on new directions for the library, the vision morphs with our work. 
Grassroots organizations thrive when volunteers, partners, and community members feel welcome, empowered, important, and aligned to the mission. The Calgary Seed Library has established various protocols to foster these feelings amongst the people engaged in the work: a culture of gratitude for other's contributions, a pratice of distributed leadership, freedom to choose roles and projects, flexible commitments and schedules, and an overarching rule that anyone involved should "never do any tasks that they don't want to do". Establishing our protocols took a long time, but it was worth the time because we have also established a strong, trusting foundation and a closeknit, diverse group of volunteers, partners, and members by ensuring that the environment felt positive. Without a large base of volunteers and partners, the project would not be possible. 
Practice your message again and again. As mentioned above, we have often found it difficult to concisely explain the complex reasons that seed libraries are important or radical in today's industrialized food system. The individuals that helped start up the library brought diverse views about the purpose of seed libraries, and we often communicated this is diverging ways. However, we practiced communicating our message by regularly talking about the different values that team members ascribed to the project during our meetings and other communications. Eventually, we were able to distill a few key messages: 
Seed libraries are accessible

. Community members can sign up and borrow seed for free, we strive to eliminate barriers to access to seeds.

Seed libraries improve the adaptability of locally-grown plants, this can help with climate resilience

. Everytime a seed is grown in the same area, it becomes better adapted to that region and microclimate. When gardeners borrow, grow, and return seeds from a seed library, they are helping the seeds that they borrowed to become better adapted to the local region. 

Seed libraries allow citizens to contribute to and take agency over their food system

. When citizens borrow seeds, nurture and consume the plants, and then save the seeds, they are gaining complete agency over the food that they have produced. They did not rely on a corporation or external parties to produce that food, and they will not need to rely on one for more of this seed or food in the future, since they can plant the seeds that they saved!

The Calgary Seed Library is a welcoming place to learn and share

. The Calgary Seed Library lends seeds, but we also hold workshops, seed drives, events, and develop resources for local gardeners to learn about gardening and seed saving. Anyone is welcome to join as a member or a volunteer!
When we get the first three lessons right, problem-solving comes easily and opportunities are abundant. Although we spent a long time focussed "inward" on building a strong vision, building trust amongst our stakeholders, and distilling our key messages, these three components have facilitated our successes and created a strong following for the organization. Our team has faced very little conflict, little or no volunteer burnout, and we have the capacity to easily problem solve. We have quickly gained a local following, members throughout the city, financial and seed donors, new volunteer applicants, new prospective partners, attention from the press, various opportunities to share our story (like this Food Communities Network piece!), and we will even be featured in a children's book next year! Most of these opportunities have even come through word-of-mouth!
Looking toward the future, we hope that we can maintain the values and strong connections that have been established so far. We hope that the project will continue to grow, and so will our collection of seeds. We aspire to lend all of our seed our every Spring, and to see greater quantities of seed return in the Fall. Finally, we hope that this project will contribute to the regeneration of urban and suburban spaces near us, and that this will lead to increases in butterfly, bee, pollinator, bird, insect, and soil microbe populations in our communities. Our community views the transfer of knowledge and the further translation of seed saving as part of our future. Here are some comments from our community about their hopes for the future: 
children and students connecting with seeds, reconnecting with nature's wonder

a deeply rooted, inclusive, equitable and welcoming community

increased scientific and traditional knowledge about seed genetics, history, and care

our seed library contributes to the global movement to protect and "grow out" rare and threatened seed varieties

many more afternoons spent saving seed, in high spirits, in community, enjoying the late sunsets of the summer

how-to videos from local gardens, with many different people showcasing their space and it's unique diversity 

willingness and confidence in growing food with communities that were hesitant or hadn't tried before

the seed library being a community model that is replicated in other communities

a future where communities have strong structures in place that allow them to be self reliant, resilient, and food secure
As our community winds down following the launch of the Calgary Seed Library, we are excited to see how future seasons unfold!